Week2 Typography
Redesign a Boarding Pass
The first thing I did was to classify those information. Most of them should be for passengers, but others like 'TSA PRECHK' is definitely for security or other staff members. They can be designed as low hierarchy element since staffs see them everyday and can identify their location and shape intuitively. So that these element won't affect other more significant information.
There are also elements like 'BCN FC0259' and 'LLRBUS' which I have no clue what they mean. So I just suppose they are unnecessary for passengers.
For passenger

JOHN DOE
Date 26MAR
Departs 12:30PM
Boarding Time 11:35AM
Flight AZ7614
Origin ROME-FIUMICINO
Destination NYC_KENNEDY
Class L MAIN
Seat 15F ZONE 3
Gate E39 SUBJECT TO CHANGE

For staff member

TSA PRECHK
DL4014637690
LLRBUS
DOCS - OK
BCN FC0259
BAGS 01 FC0237023/DM
QR Code

Static Information

'Boarding Pass'
'Operated by Delta Airlines Inc'
Skyteam LOGO
Delta LOGO
I picked Helvetica as the main typeface. It's so well knowned and easy to identify, nothing can goes wrong. Primary elements are in bold weight, while secondarys are in light.
The color was from Delta Brand Guildlines's color palette. A primary blue, a secondary red for logo, and a tertiary light blue for secondary info.
Final Result: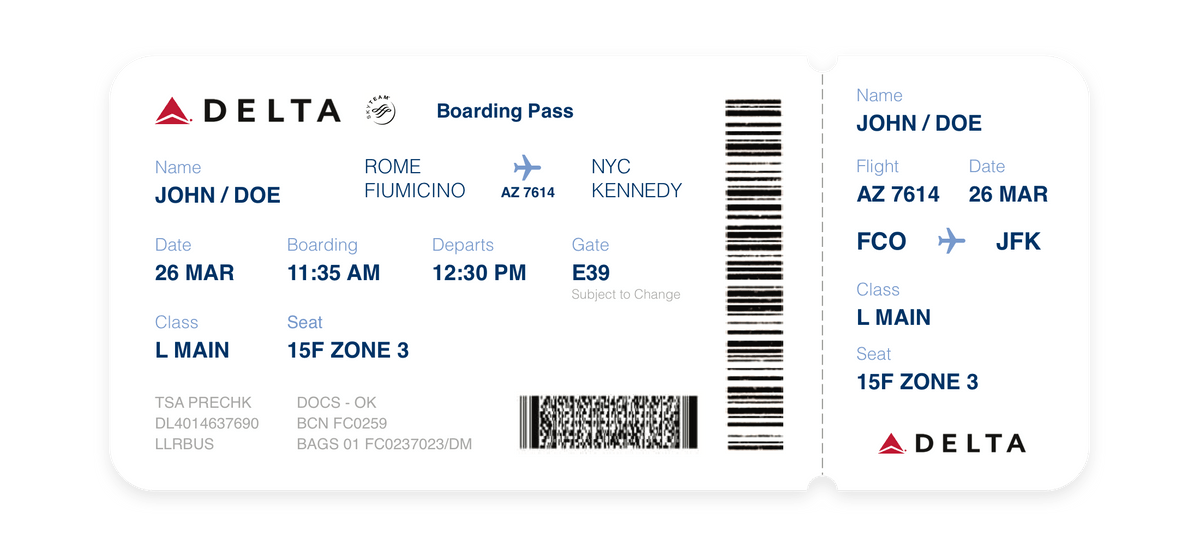 Expressive words
Under the theme of 'COVID-19'